The flu bug, ugh! People work hard to avoid getting the flu. They get flu shots, take vitamins, and get plenty of R&R so their immune systems are at their best. Why do they do this? Because they know catching a bug can knock them out of commission. When people get sick, they feel crummy, simple tasks take longer to do and really all they want to do is sleep.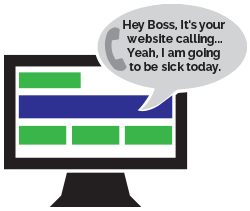 So why should I worry about my website security?
Just like people need to do some maintenance work to avoid getting sick, so does your website. You want your site to continue to work hard for you, generating leads, landing sales, working as efficiently as possible, but if you don't take care of it, it's going to slow down. Your site becomes more vulnerable to hackers and security issues.
Haters going to hate, Hackers going to hack
WordPress is on an upward climb gaining more popularity every day. With more and more people using WordPress, more and more hackers attempt to hack sites and inject harmful code that will bring down your site and cause a long list of issues. This is why WordPress developers continue to release security updates and patches to fix the areas that hackers break and keep things running as securely as possible. Keeping your WordPress install and your plugins up to date helps to keep your site as secure as possible.
New 'Shiny Objects'
Along with security updates, WordPress and plugin updates can come with new features and functions that improve the functionality and user experience. Speeding things up, making things run as smooth as possible added bonuses with these updates.
Is this something I can do by myself?
Do you give yourself the flu shot, or do you let nurses, doctors and trained professionals handle that one? You do have the resources to update the site by yourself, however if things go wrong, for example something bugs out, you may have lost your website.
Introducing the SECURITY+Plus plan
We have come up with a plan that really is a steal of a deal. Keeping your site up-to-date and secure can be a never ending  task. Let us help take the pressure off  with our SECURITY+Plus plan.
You get our best hosting, monthly security checks, WordPress updates, and more.
What's Included
Managed WordPress Hosting
Spam Protection
Daily Backups
Theme Updates
Monthly Plugin Updates
Monthly Security Checks
WordPress Core Updates
Want more information on the Security+Plus plan?
Contact us today! We can discuss WordPress security and our specialized plan.
Contact Us!